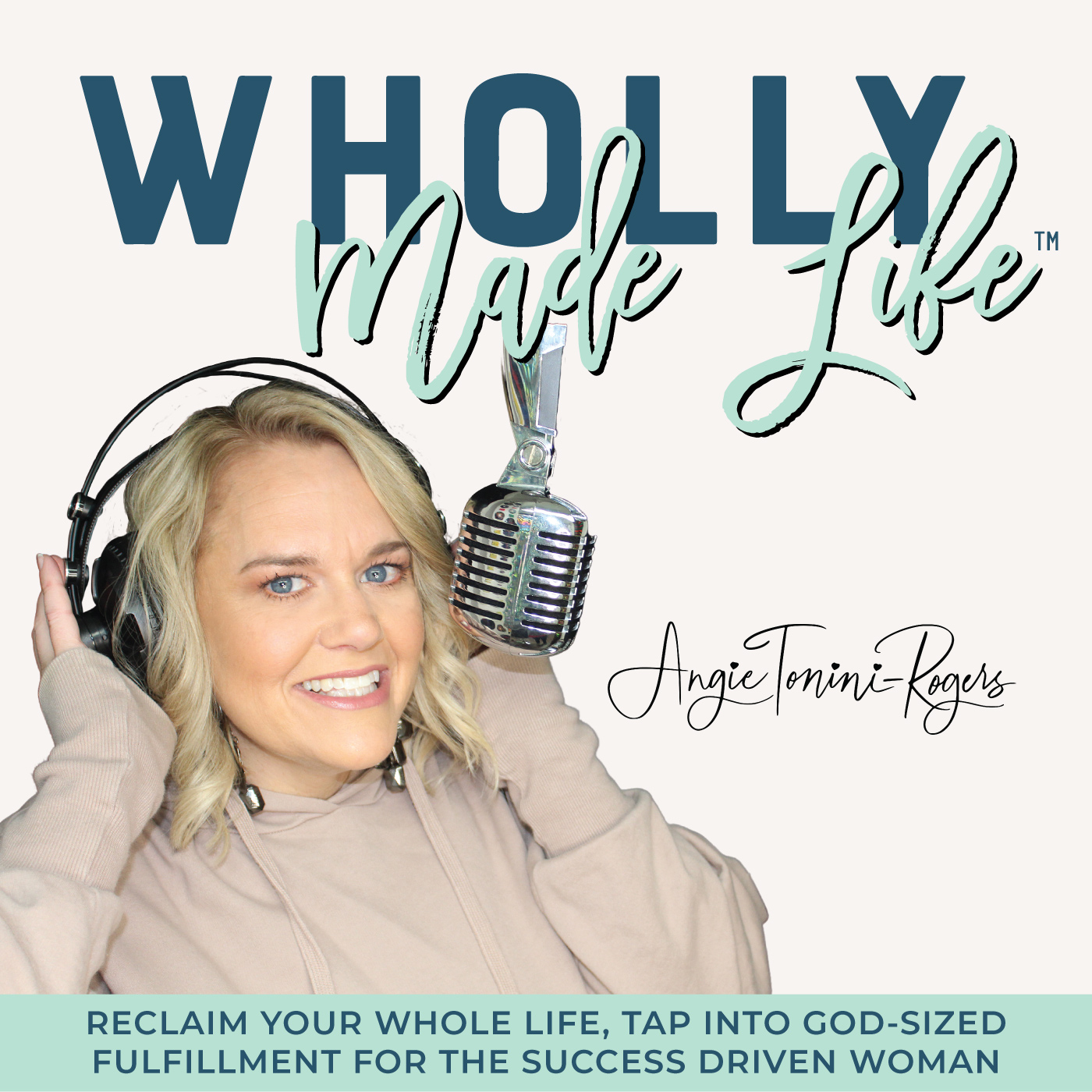 EP 57 How to Wait Patiently on the Lord When You Are Tired Weak Frustrated Angry Hurt: How to Trust God When His Timing is Not Fast Enough For Me
Okay. How many of you guys can say that you honestly know how to patiently wait on the Lord. When you are feeling only frustrated and angry and upset and throwing tantrums all over the place. How many of you guys can actually say that that never happens to you and you always know how to patiently wait on the Lord, raise your hand. Okay. My hand is not raised just in case you wanna know, because I have to continuously try to wait patiently on the Lord. And today that is exactly what we're gonna talk about.
Contact Me! 
Website:  https://www.angietoninirogers.com
FB: https://www.facebook.com/angie.toninirogers
Community: http://bit.ly/whollymadelifefbgroup
Email: atoninirogers@gmail.com
Wholly Made Life™ IIDEAA Framework Journal: http://bit.ly/IIDEAAjournal
Wholly Made Life™ Short Assessment: http://bit.ly/shortassessment
Angie's Coaching Menu: visit website at www.angietoninirogers.com
Hey, welcome back to this episode of Wholly Made Life™, Ladies. I am so glad to be back. I don't know about you, but hopefully you've been patiently waiting a lot better than I have in this season. I have missed several weeks, even about a month, probably maybe a little over a month actually, of recording. And that is because I have been trying to rearrange my life with this new real estate agent business that I am building right now out. And I've been doing that since about October 14th, actually. So we're going on two months and at the same time, some of the coaching that I'm doing, as well as the work in the real estate investing. And then finally I am managing vacation rentals here in downtown Louisville. And so I have been kind of doing like a huge startup all at once with all of these different things.
So it has been absolutely insane and it's holiday time. So there you go. On November 20th, 2020, it was my year anniversary of resigning, my chief nursing officer position. And so today's episode is all about with eating patiently and how do you wait patiently when you are super frustrated, super tired, flat out angry, and just don't really know where to go and what to do. So that is what today's episode is gonna be about. Ladies is how can we persevere and wait patiently on God when we are tired and frustrated. So let's get into the episode. Okay. So like I said, November 20th, 2020 was my year anniversary of resigning, my chief nursing officer position. And most of you guys, if you've listened to some of the beginning episodes, you know, that this journey that I've been on for the past year started with a God word, God directed me to resign for my chief nursing officer position.
Essentially give him that position, that title, that salary, that work life that I had that career give it all up to him as a sacrificial offering. And he would show me what's next. And he had something more, something better, something bigger for me. Now, you know, at the beginning of that transition, it was a lot of time where I just took to decompress and kind of, I guess, just chill out from being, you know, having worked for the past two decades where I'm on call 24 7, I am running for no less than 80 hours a week. And on the phone, if I'm not on site at work. So it just took like several months to decompress from that and not feel like anxious when I walk out of the room and I forget the phone and realize, oh my gosh, maybe I missed an important phone call, that kind of thing.
So it took me several months to I decompress from that. And as I kind of listened and asked him to kind of tell me, okay, what do you want me to do next? You know, starting this podcast a year, actually the first episode dropped on December 31st, 2020, so almost a year ago. And that was all a God idea. He said, do a podcast. And so I said, okay, if I'm gonna do a podcast, you're gonna have to tell me what to talk about on every episode. And quite frankly, some of the hiatus that I've been on is because I didn feel at peace with what it was he asked. He of, of, I didn't feel at peace with getting on here and dropping an episode about something that I didn't feel came directly from him. Because I really resolved when I resigned that position, I really resolved to really try to step as he has directed me, you know this plaque that I got as a gift from one of these, the ladies at work when I was leaving it was the song, I think it's hill song oceans, you know, spirit lead me where my justice is without borders that song.
So I really tried to be very intentional to when I took steps, I wanted it to be him directing me and not my own needs, once desires my own need to control things. So I tried, I approached the podcast in that very way. I prayed about what do you want me to talk about? And then, you know, an idea would pop in and I would feel at peace that, yeah, that was from him. And then some of the weeks that I didn't drop anything, it was because I just didn't feel at peace with what it was I was thinking about. I just didn't feel at peace that it was from him. And I really didn't want this podcast to be about something. I specifically my own, like flesh wanted to talk to people about, or talk to the computer about talk to the microphone about, but I really wanted it to be led by spirit, you know, led by the holy spirit because I, this wasn't my idea to do a podcast.
And so I wanted to be true to if it's, it led, then let it be spirit led. So that's kind of where we are so fast forward to about the last month or so maybe month. Yeah. A month or so. You know, when I resigned that position back in November, I, when I hit that year 11, 20, 20, 21 I, it was almost like you know, the stages of grief where you, you have the loss of something. So you're angry, you're in, you're in denial, you're in bargaining. You know, anger is actually it's sick CLIC, right? You, it doesn't have to be fluid. It's not like, step 1, 2, 3, when someone's grieving something or grieving the law of something it's fluid. It goes from maybe bargaining to denial, to anger, back to bargaining, back to, you know, those kinds of things. So I kind of slipped into this almost, like I said, part of a grieving process where I started to feel like not angry as in like angry, something around like, like aggressively angry, but just like frustrated that like, man, I was making a really good salary and I, I had everything set and I gave it all up and I'm still God sitting here a year later.
And I don't feel like I'm in the place that I personally would've wanted to be in financially for sure. I mean, it has been so humbling. It has been such a season of sacrifice. At the same time though, it's been kind of this, this double edged thing, because it's been such a blessing too, because I'm telling you guys math. I don't know if you know that two plus two equals four. Well, not in this past year. It hasn't, we have been so blessed with I seriously, when I look at our budget and I look at how many bills that we had to pay, and I look at the amount of money that came into our bank account. Since I resigned, the math does not work out. It just doesn't make sense yet. Here we are a year later and while I'm not making a huge salary the bills that we had that matched the salary that I was making before, they're all being paid on time.
We haven't missed a thing and that's nothing but miraculous. I mean, that is nothing but God's hand right on that because I'm telling you guys two plus two does not equal four, a situation math does not add up. So while frustrated that I'm not where I personally thought I would be at this point a year later from resigning. At the same time I look at like, I look around and I'm like, man, what a blessing? Like what a testimony that it it's just like, you can't even explain it. The math just doesn't add up. We should not have been able to make all the payments we made and pay all the bills that we've paid. The math doesn't add up, but it's, it's real it, we've done it. And so that's all God and that's who God, you know, not, not just God, but it always God, but God uses people around us.
So we've been blessed by people that have been in our lives and we've received gifts. And just, it's just been such a blessing yet for this path month and a half. And this is what I wanna talk about is waiting patiently on the Lord, because for this past month, not a month and a half month, I have, I actually <laugh> recently just had to get on these and pray to God and repent really just apologize because I've been acting like such a brat, like moping around, you know, like being sad about the fact like, okay, my bank account still doesn't have, you know, not even one zero in it, you know what I mean? <Laugh>, you know what I mean? And man, I've just been moping and almost feeling getting into this, like this, the sad I don't use depression lightly. I mean, that's a clinical word, but you feeling down and like frustrated and like, man, even to the point where I started to question God, did you really tell me to do what I think you did a year ago?
And what I know is what I know, I know what I heard and I know throughout months and months of prayer I know all of that was confirmed and I know that that was the right thing to do. I know that that's what I was being directed to do. But a year later when things aren't where I personally think that they should be, I have to, to remind myself that I've gotta patiently wait on the Lord, I've got to trust him. And I've gotta know that what he said is what he said. And I know that what he says is true. And so when I hear things or things start creeping up in my mind, like, did I, you know, why did I do that? I can't believe I did that. Like, we would've been in such a better situation by now financially if I had just stayed where I was you know, or did I really hear what he says or why hasn't this part of the business taken off or this part of the business taken off, you know, all these questions.
And what I know is that those are lies. If they're not aligned with his, he says he has plans to prosper us, not harm us. And he says he works all things out for our good, so I know what the truth says, and I know that it's a lie and that's the first thing you gotta identify that that's a lie, but I wanted to talk today about how we can, it, you know, I wanted to be candid about where I've been this past past month or so in my own emotions, in my own head, in my own thought life, you know, I've had to like work extremely hard to really focus my intentional thoughts on being aligned with what I know the truth is. So how do we patiently wait on God when we are in a place where we are just super frustrated or we're grieving the loss of something, or we're angry even about things.
And number one is trust. You have to be able to trust. We have to trust him. We have to say, I trust you. I trust you. It's in your hand, I give it to you, take it. We have to be able to say that we trust it. And we, the more we say it, the more we do it, the more we remind ourselves of you know, what the truth is, God has said it starts to become easier to do. And anytime those thoughts creep up, you have to head them off and you have to align your mind with the truth. And you have to identify that when those whispers are happening in your head where you're like, God's forgotten God doesn't care, or you know, maybe you didn't hear God talk, right. You know, reminds me of when the serpent talked to Eve in the Garden of Eden.
And Eve said, you know, is that what he said, is that, what really? He says, is that really what God said to you? Or, you know, and then she was like, well? I dont know- he was helping her twist the words, you know, he was using God's words, but twisting them up in a different context than what they were intended. And that's what Satan does. He, he uses tiny pieces of truth and twists it. So you have to be identified. You have to be able to di identify that that's a lie. So you wanna fight back with the truth. You wanna use scripture, you wanna use prayer and you wanna use those reminders. You know, we say that we hope and wait in the Lord. He will hear me. That is scripture. He will hear he, we will wait on God and my God will hear me.
And so the second thing that we have to do is we have to be faithful. We have to understand that even if we're angry, even if we're hurt, even if we're frustrated, even if we feel, feel like God's gone quiet, I mean, this past month, I'm like, God, can you, can you speak up? Like I'm listening, I'm waiting. And you know, tell me what you want me to do. Am I doing what you're I'm supposed to be doing? And so when you start to have to do all of these actions where you feel like God's gone a little quiet on you, and you're like, well, I guess I'll just continue doing these actions. I'll continue with the work of my hands, because he blesses the works of our hands. I'll continue doing what I know how to do while he's quiet and just make sure that my ears are focused so that I can hear when it is time for him am to reveal the next or reveal something else or something different.
And like I said, it's easy to become angry when you are patiently trying to wait on God, because especially when you feel like you've been waiting forever. I think sometimes when that happens, too, when we start to feel angry, we aren't always intentional about listening at that point. It, you know, it's like we're throwing our own little tantrums. We're having our own little pity party. And when we're having our own little pity party, we're walking around moping all sad, all moody. We're not, we can't hear him. We can't, even if he was trying to speak to us, we'd be too busy throwing our little pity party on the side that we wouldn't hear it. We wouldn't notice it. We wouldn't see it. So you've got to be very, very careful and not to get angry and not to get bitter as you're waiting you.
And this is the time where you run back to him. You run back to him because we are faithfully and patiently waiting on God. And it doesn't matter whether we feel at peace with what we think we're hearing or not hearing as far as, you know, if he's gone quiet, like if he's quiet, then that means that you gotta just continue to do what you're doing and continue to pray and continue to ask and, and continue to ask him to reveal it to you. And if he doesn't reveal it today, then he'll reveal it tomorrow. If he doesn't reveal it tomorrow, then he'll reveal it the next day. It's, it's a belief that, you know, he's right there with you. And if he needed to say something to you, he would and again, you guys, if this is your first time listening, when I talk about God talking to me, it's not like an audible voice that he's sitting right here in front of me.
And we're having a, like a conversation like you. And I would have. It's a, it's a, just a knowing. It's a feeling in my gut, in my spirit and a piece that comes over me. This is how I hear a piece that comes over me. When I feel like I've heard him speak to me, it could be through people. It could be through a song. It could be through a prayer. It could be through a plaque that somebody hand you at a store that has a scripture on it. I mean, you, it could be the clock that says 11:11pm , you know, double portions. Hello. But it, it is just that feeling that you get when something comes to you and it means something to you, you feel it in your spirit and you feel a peace, or I do. I feel a peace with what it is I've heard.
So when you feel like he's quiet, it's just more time for you to talk to him. He's listening. So think about it like that. When you feel like God is being quiet, he is listening to you. Therefore you need to talk to him. You need to talk and have a conversation when he's quiet and you're not hearing him talk to him, ask him, tell him you need him. Tell him you love him. Tell him you. Thank him. Make sure you're being a good steward with what he's put in front of you right now. It's, it's an opportunity to enter his presence. Like never before. If he's quiet, maybe it's just because you need to talk to him more and tell him more about what it is you need. Maybe you need to reveal the ugly bitterness that you're feeling, or the anger that you're feeling.
Maybe you need to have a cry session with him. Maybe you need to repent for being such a brat. Like I literally just said, you know what, God, I, I'm sorry. I've been a complete brat this past week. I've been moping around. I've been like STR frustrated. I've been looking at everything that's happening negatively. And I've been letting it, you know, frustrate me, which then starts to affect our behaviors. So it's a big cycle you've got to press in when you feel like he's quiet. He draws us to him when he's quiet. If we allow him to the next thing is to make sure you never stop serving other people. So you want to serve. He wants us to love and serve other people. He wants us to wait on other people. Think about this during this time of waiting where you are not seeing the results that you want, or like in my season where I'm not getting the results I want fast enough, it just means that I need to serve better.
I need to provide more value to people. I need to do more to care for other people. The more you give to others, it will be returned to you. So take some of this time to say, okay, how can I serve better? Then I'm not getting the results I want. All right, what can I do to serve people better? I'm mean in my real estate career, that is something that I look at as like, okay, I'm not getting this or that. Then how can I serve that person better? Or how can I do this, this part of the job in a way that serves the person in front of me, better, like it, I'm just gonna take it upon myself to try to serve better. The other thing is that remembering that God gives us small things to do, and if we're stewarding the small things, well, it will prove to him that we're ready to steward bigger things.
So sometimes it's just having, being faithful with the little things so that he will be so that he knows that we'll be faithful with the larger ones. If, if we're not careful and intentional to take care of the little stuff, then it doesn't make room for him to do the bigger things and, and move us to the next step. Okay. Here's a, I think this is a fourth thing here. Be expectant and trust, be expectant that like I'm waiting right now, but I know what I know. And I know, I know that a, that over a year ago when he started kind of nudging me, moving me towards giving up the, the CNO position he said that he has bigger and better things. He said that he will guide me. He said that he will provide for me. So he said those things.
So I'm expecting him to do that. So while I deal with my flesh where I get to the end of the money or the end of the month, or the end of the result, that didn't happen, how I wanted it to, I know that he said he was gonna take care of it. He said he was gonna lead me. And so I can do two things. One, I can expect it and believe it and talk to him about it. And two, I can make sure that I am being obedient with the little things that he's giving me as we are walking a, as we are on the, this journey. So I'm gonna expect and trust that his ways are better and I'm gonna trust his timing. Like, I'm not where I wanna be, but maybe it's because it's not time for me to be there yet.
And maybe where I wanna be is not at all where God's taking me. I have no idea. It's his, you know, God's I, I said this before I God's my CEO and I'm his COO, right. I'm his operations officer and he's my executive officer. So he's the chief, he's the one directing, he's the one in charge. I'm just, I'm just doing the work to make sure that the operations go okay. So that's kind, kinda where I am with that. And I just have to remember that he's, he's leading. So if it's not time for me to be where I think I need to be, then it's not time. And I have to trust that he, his timing is better and he know his ways are better than my ways. Okay. And then I think I talked a little bit about this already with being grateful, being thankful, just taking the time every single day, like I said, he's provided, so there's no way I can't thank him every single day.
Like thank you that we haven't missed a mortgage payment. Thank you. That we've been able to pay tuition bills. Thank you. That we have food in our refrigerator. Thank you. That I've not, you know, I'm able to put gas in my car. Thank you. That, that the insurance has been paid it. I mean, it, there's, there's so much thank you for protecting, you know, us during travel. Thank you for protecting my child. Thank you for bringing my child, you know, pulling on his heart and having him come back to you. Thank you for reminding me who I am in a word and not in the world. Thank you for taking care of my children in this crazy culture that they are bombarded with every day. So you know, thank you for, for helping me become a better wife and showing me how I can improve and being a better wife, all those things that we need to thank him for.
We got to continue to be grateful for what we do have while I'm not exactly where I personally would love to be. It's doesn't mean that it, I, I'm not grateful for where I am and losing hope is not an option. Okay. It's he is hope there is no place to lose hope. So always knowing that there's always hope because he said what he said, and I believe in his word, I was just thinking about something else. And I was think about a prayer and I just lost it. So I, I think, I think I have kind of covered most of the points that I wanted to cover, and I felt like I needed to cover. And again, you know, <laugh>, this whole episode is really about talking to myself on how to better wait on God, you know? We gotta trust.
We, we wanna, we gotta be patient. We gotta believe and expect that the truth is exactly has this exactly where we need to be. You know, we gotta be grateful. We gotta serve others and we have to be realistic about our places of weakness. That's that, that was the last thing is just praying for strength when it is that when it, when we're in a place where we feel like we can't do it and we don't how to do it, it's just having that place where we show him, God, I don't know what to do. I am doing what I know how to do. I think I'm doing what I'm supposed to be doing, but I don't know if this is right. I don't, you know, because if the results don't come right away and there's not evidence right away, sometimes we get a little skitish.
Sometimes we get a little, you know we start to question if what we're doing is the right thing. And that's a point of weakness for me, for sure. I mean, if I don't get results right away, I start to question, am I doing the right thing? Am I, should I switch to so else? Because I'm used to getting results right away, especially in my old job. So when you're in that place where you're feeling like, just like you need strength and you need wisdom and you need that discernment, and you gotta just know that that's where he finds us. He finds us in our weakness and he fill in the gaps. So there we go. Now we can all patiently wait on the Lord. <Laugh> a little bit better. It's all a process guys. It's a process. It's a journey. You know, I wouldn't have it any other way, because any way with God is better than a way without I wanna thank you guys for tuning in.
And like always, if you want to connect with me, you can go to my website and Angie to rogers.com. There's plenty of spaces on that site where you can connect with me and I will be happy to have a conversation. I do also continue to provide coaching. And certainly if you guys have any real estate needs, especially my local friends and where people want to a buy seller or invest in real estate, feel free to refer me, anyone in Kentucky that needs help in Kentucky. I am available for that as well, but I love to hear from you guys, if you have not left a review lately, feel free to leave another review that helps get the podcast shared with other women. And again, I also have the Facebook community jump in there and we can talk further over there too. All right, ladies here's to patiently waiting on the Lord, have a wonderful day.