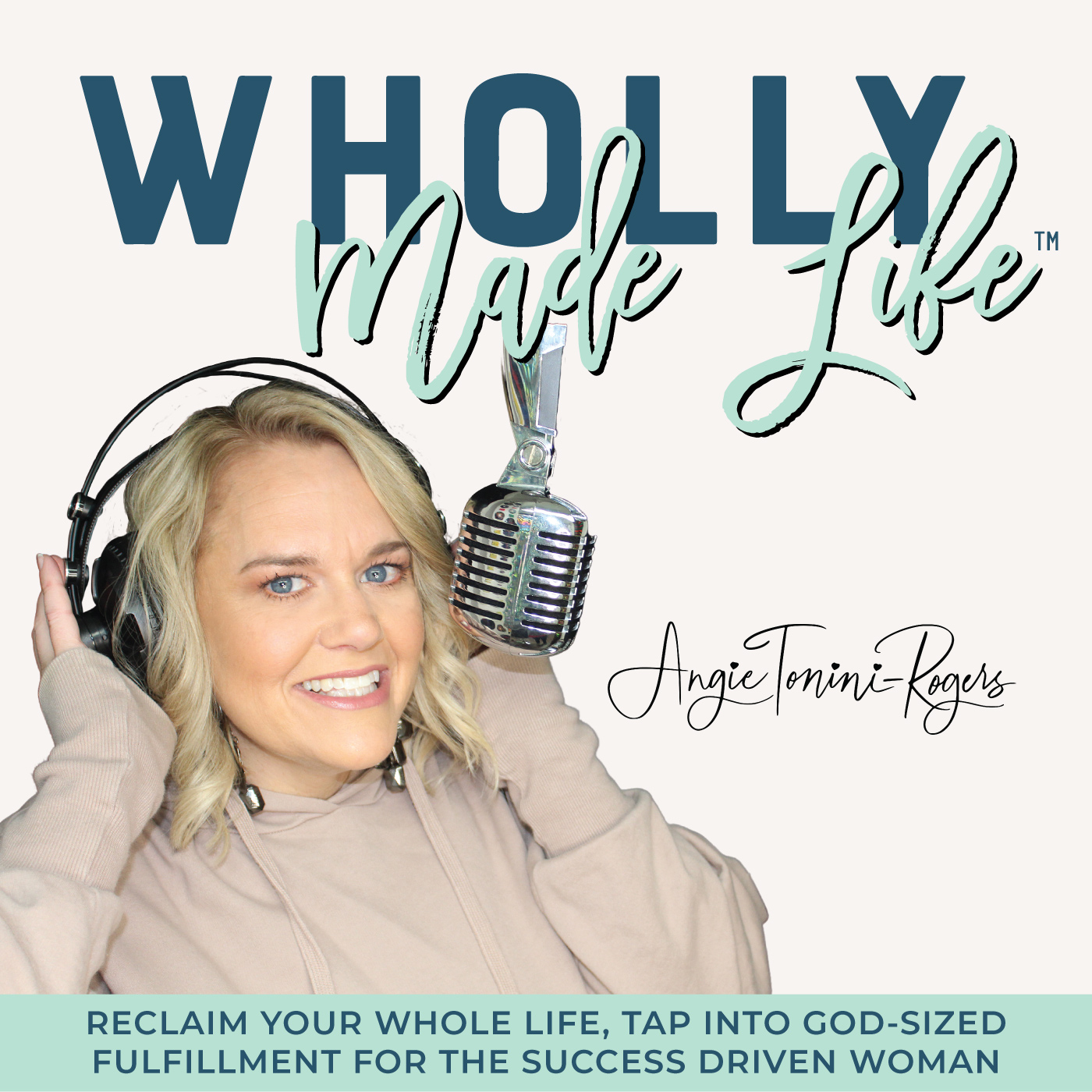 EP 53: How to Pray for Your Children's Safety, Blessings, Favor, Protection Against the weapons & lies of the world, lies of the enemy
Podcast: http://bit.ly/whollymadelifepodcast
Website:  https://www.angietoninirogers.com
FB: https://www.facebook.com/angie.toninirogers
Community: http://bit.ly/whollymadelifefbgroup
Email: angietoninirogers@gmail.com
Wholly Made Life™ IIDEAA Framework Journal: http://bit.ly/IIDEAAjournal
Wholly Made Life™ Short Assessment: http://bit.ly/shortassessment
Angie's Coaching Menu: visit website at www.angietoninirogers.com
Okay. Let's get into this episode where we are going to say some prayers for our children. So I'll just hop right into it. Let's talk today about the spirit of alcohol abuse and dependence, or I'm going to throw in praying against the attack of the enemy related to nicotine alcohol abuse, dependence generational curses, disorientation division conflict, those kinds of things. Okay. All right. So God would come to you to gait today. Love thanks. And just Thanksgiving, we praise you God, for who you are. We praise you, God that you already have the end in mind. There is a mark today that all of our children will come back to you, come to you and be drawn to you by the holy spirit, they will, it will, they will be drawn as magnets to you. God, because you have all that they need.
And we thank you, God, that there is a mark today where our children will see the purpose that you have. And they will see themselves God, as you have designed them. So right now, God, we come against the attack of the enemy. We rebuke alcohol abuse and dependence. We rebuke nicotine dependence. We review all generational calls, persons God in the name of Jesus rebuked, the spirit of drunkenness, confusion, division, disorientation conflict generational curses. We break the and ties that enemy has set up before our children of the promise. We send back every word assigned by the devil. And I say that all of these things, the enemy has set up against our children was a thing of the past and will be no more in the name of Jesus. And in the mighty blood of Jesus. I call out every wicked spirit who have attached themselves to my sons.
God, I, I asked for complete freedom and Liberty from every attack of the enemy that has been set up before them. It is not your will God that our children live in the lies of the enemy. So we want us to be cleaned this day. We wipe every unclean spirit that's inside of us. We call out every evil, demonic spirit to reveal itself and be banished immediately go far from us. Now, enemy, you have no strength. You have no authority here in my household with my children, with my husband, there is no power in you, God, because God is faithful and he will not let us be tempted beyond what we can bear. But when we are tempted, God, I thank you that you give us a way out that we can endure God. There is no excuse for the attack of the enemy in our lives.
God, we ask that you remove it now from our thoughts and our actions for everything in this world. For the less of the flesh, the less of the eyes, the pride of life comes not from the father, but from the world. And we rebuke every worldly spirit that has taken a whole of our minds and our bodies, our emotions, and our spirit. We rebuke it now in the name of Jesus, God, we chase the spirit of the enemies away from our home, away from our children and away from our family members. We break generational courses right now in the name of Jesus. I bind and cast out every spirit that is not of you from my children, heavenly father. In this day of trouble, I call on you. I seek your face for righteousness in our lives. I believe that you will banish all forms of attack that the enemy has come against us in the name of Jesus for we, no weapon formed against us shall prosper when we are within the love of Jesus Christ and under the mighty powerful blood of Jesus.
God hear our cry. Let our prayers rise up to you. I beg you to act quickly for our children could be an imminent danger from the worldly enemy. Demonic lies that are upon them. Their lives might be endangered Lord and I am in a helpless position. I ask that you send your angelic hosts to keep my children safe for rent forever now and forever surround them above them, beneath them, beside them, behind them in front of them. Surround them God with your angelic hosts to protect them from the lies of the enemy. I asked for the holy spirit to convict and persuade and strengthen my children in Jesus name. I pray the holy Spirit's power over the enemy and his forces of evil that daily assault our child through the media, through internet, through social media, through TV, through music, God, the demonic lies of the world will fall, fall a powerless at their feet.
God, because you, God are the ultimate in all mighty power. And we plead the blood of Jesus over their lives. I pray the holy Spirit's power of the enemy and his forces of evil. I pray against the enemies. Deceitful promises, let them recognize the lies of this world. Let them recognize the lies of the devil, the lies of the enemy. The demonic lies that come against them everyday. God let them see them for what it is. If it is not in alignment with your word guy, God, it is a lie. I pray against the pleasure of evil and I pray that sin tastes bitter to my children. God, you understand us. You understand a parent's heart. You know that we trust you. We love you. We have faith in you, but as a parent, it is so hard to leave our child completely in your hands.
It's hard for us, God. So we pray for strength and wisdom and discernment that we can give our children back to you. They, our RC that you have trusted us with and given us, given us and we pray God that you keep your hand on them. God, we pray for strength. As we give you complete trust. And we hand our children to you. We are worried or even angry about the evil influences that push against our children. God. And we asked for a hedge of protection to be placed all around them. God, place your hands around our children and guide them into your presence. Give them a Thurston, a hunger for you and a dissatisfaction for the pleasures of this world. Place people in their lives, in their paths to influence and encourage them towards the heart of God. I asked for a holy spirit to convict and persuade and my children in Jesus name.
I pray the holy spirit power over the enemy because the enemy has no power under the blood of Jesus Christ. And I pray over the daily assaults against my child. I pray that there is recognition there that the holy spirit recognition against whatever is deceitful and whatever is of this world. I pray against the pleasure of evil. I pray that harmful friends and dangerous actions brighten my children so that they run towards you for protection and power and purpose, help them find their identity in you alone and not in the lies of the enemy, not in the lies of this world, but you got, you give them are their identity. And I pray that you reveal that identity to them. I claim victory over my child's life because of Christ's sacrifice on the cross and his powerful resurrection in Jesus, holy and mighty name. I pray for them to return to the blessings of a life lived holy for God.
May they walk worthy of your calling? May they please? You may. They conform no longer to the world, but be transformed in their minds, lead them into your good and perfect. Will I give them into your hands God, to transform them through your power in Jesus' precious name. Amen. And that would be a prayer that you can pray over your children every day, because prayer, my friends is powerful and he hears it. And when we pray these things together, and like I said, put your kids' names in there. And when I say help, my children find their identity. I say, help, Clayton help Elijah, help Ryzen find their identities in you alone. Put their names in there. And when I pray, I also put my friend's kids names in here. I put my children's friends names in here because that is powerful. We need to raise our kids up and we need to hand our kids up to God so that he is in, we are in constant unity over the holy spirit having control over our children's lives.
And in Jesus name, we pray for that covering and protection. And we pray for that strength. As parents, as we walk through life, when our children aren't always making the decisions that we wish they would make, or we know they should make, we, we pray for strength to hand them up to God and trust that God has a marked day, that they will be coming to the full light of the holy spirit and understand what their purpose is for God. And we pray for that consistent hedge of protection and give us strength. As we know that God will send his angelic hosts forward to prepare them and keep them in the name of Jesus. Amen. All right, until next time, ladies,
Hey, before you go, I'd love for you to hop over to my podcast and give me a review and you know, I'd love five stars. That's how we can share this thing with other women, just like us, your five stars and written review really helps me get the word out. You can also take a screenshot of this episode and tag me in your Insta and Facebook stories. And I'll give you a shout out right back, leaving a review and sharing this episode is the best way you can show me some luck. Thanks so much. And I'll see him the next episode. And remember your smile is like a boomerang, throw one at somebody and it'll come right back.